Learn Christmas Sign Language Songs - Christian Sign Language Songs for Christmas - Easy Sign Language songs for Kids - Patriotic Sign Language Songs for Toddlers - Christmas Sign Language Songs for Kindergarten
Order ASL Christmas Carols on DVD Enjoy Sign Language Christmas Songs, Christian Hymns & Patriotic Songs on DVD
ASL Christmas Carols .com

Free Shipping

Contact Producer Tim Riley 800-420-1112 7040 Avenida Encinas Suite 104 Carlsbad, CA 92011 Email

Preview & Order Our Popular Sign Language Song DVD's

All our Sign Language DVDs include a Slow Motion Option for Easy Learning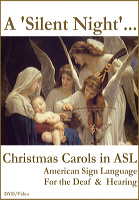 DVD's $29.95 Each - FREE Shipping
FREE Standard S&H Within U.S. - Expedited S&H Available at Check-Out
SAVE $30
When Buying The Complete Set - 4 DVD's
ORDER The Complete Set - 4 DVD's $30 Savings!!
$99.80 Free S&H
Free S&H within U.S.
For More Specials & Savings Click Special Sales

Here Are The Sign Language Songs Included On Each DVD

The Patriotic Spirit…Patriotic Songs in ASL

Includes:

The Star Spangled Banner (The National Anthem); America The Beautiful; When Johnny Comes Marching Home; Yankee Doodle Dandy; America, My Country T'is of Thee; The Pledge of Allegiance; Includes A Slow Motion Study Version for Each Title

A Praising Spirit, Vol. I… Prayer & Hymns in ASL Includes: How Great Thou Art; The Lords Prayer; Amazing Grace; Just As I Am; To God Be The Glory; Christ Shall Have Dominion; Includes A Slow Motion Study Version for Each Title

A Praising Spirit, Vol. II…

Prayer & Hymns in ASL Includes: The Old Rugged Cross; Rock of Ages; Blessed Assurance; Praise God; Hail Mary; Closer Walk With Thee; Includes A Slow Motion Study Version for Each Title

A 'Silent Night'... Christmas Carols in ASL

Includes:

Silent Night; Hark! The Herald Angels Sing; Joy To the World; Oh Come, All Ye Faithful; The First Noel; We Wish You a Merry Christmas; Plus Ave Maria. Includes A Slow Motion Study Version for Each Title

About Us

Hayden Riley & Tim Riley, Producers

We produce high quality Sign Language Song DVDs

All of our Sign Language Song DVDs have received great reviews, and our Sign Language Interpreter Team is acclaimed through out the deaf community. We offer easy to learn Sign Language Songs for Christmas, Sign Language Songs for Toddlers, Sign Language Songs for Kids, and Sign Language Songs for Kindergarten. Please preview and order our Sign Language Song DVDs. All our Sign Language DVDs have a Menu with a Slow Motion Option for easy learning.

Our Acclaimed Sign Language Interpreters

Our team of interpreters have interpreted for Presidents Reagan, Clinton & Bush & Marlee Matlin and have coached Academy Award-Winner Meryl Streep, and have been sign language advisers for numerous major motion pictures and primetime TV shows such as CSI: MIAMI, Desperate Housewives, Navy N.C.I.S., Boston Public, Law & Order: SVU, The Practice, Scrubs, and many more.

Journal Reviews

Library Journal

"Highly recommended for all U.S. school and public library collections."

LJ 7-08

School Library Journal

"Hayden's presentation is elegant...very expressive...enjoy this production." SLJ 6-08

Booklist

"Simply, but elegantly, Hayden Riley... impeccably signs... The program is useful for a wide variety of ages and audiences, from hearing impaired to those learning to sign and those interested in watching someone sign... available separately or purchased in a set." Booklist 3-15-08

Customer Reviews

"My Complete Library arrived Monday – super service. The lady in the DVDs is beautiful & so fluently adept in the presentation. Kudos on the quality of these DVDs." E. Bittner, Sign Language Club, Strongsville High School, Strongsville, OH

"As an ASL Interpreting student, the DVDs have been extremely valuable. I use them for copy signing and Sign to Voice practice." R. Longsteth, Cold Spring, KY

"I purchased your complete set of ASL DVDs. I am 14 and the sign language interpreter for our church choir. I love watching you sign. My 7 brothers & sisters love to watch too. Thank you so much for your ministry." A. Scheboth, Gibsonia, Pennsylvania

"I just received my Complete ASL DVD song set. It is awesome!!! Hayden, you do such a beautiful expressive interpretation of each song. As a beginner-intermediate, I find your signing so much easier and enjoyable to follow than DVDs I have gotten in the past. Great set, lighting, and the wonderful resolution is clear & crisp whether on computer or television. Thank you! I feel blessed to have discovered your website. The whole transaction and fast delivery was the best service I've had in some time. Bless you both for your gift to produce quality materials from interpretation to production, you are to be applauded." D. Abath, Brattleboro, VT

"Your DVD's are wonderful, and just what I've been looking for. They are so well done and the music is beautiful!" F. Patrizio, Portland, OR

"I absolutely love the signing songs. My husband cried when he came in to watch. I especially love the ones slow enough to teach my 2 year-old grandson and me. He loved the signing and the music. Hayden Riley signs so smoothly and the way she matches her facial expressions with the signs is great. It is wonderful and very helpful to have the black background with her wearing black because her arms and face are easy to see. The subtitles at the bottom helped me match the sign with the lyrics to the song. Thank you for your promptness in getting my Complete Set to me, and thank you for the wonderful work. Great job!" B. Holzkamper, Watts, OK

Thank you so much for this labor of love! I am so pleased with this DVD set! The variety of songs is perfect. Hayden, you bring a life and joy that is absolutely uplifting in your signing. I am a music loving senior who is just beginning to learn ASL so I really pay attention to your facial expressions as well as the signing. I'll be looking forward to your next DVD's. Thank you both for such excellent quality and fast service!! J. West, Union, CT

A 'Silent Night'... Christmas Carols in ASL

"I received the DVD several days ago and HOW EXCELLENT! I watch it daily to keep in the season! I just had to share that your 'happy dance' at the end is the highlight of the DVD. You are amazing! You two are beautiful inside and out. THANKS FOR THIS GIFT OF LOVE." MM Rodgers, Pontiac, MI

"I really enjoy your Christmas Carol DVD - I really love it. My grandkids love watching your DVD and me learning how to sign your songs. I love your performance and could feel the motions and emotions. You really perform so gracefully. I would love to get more of your ASL songs. Thank You!" M. Bishop, Tully, NY

"This item was FANTASTIC! The ASL was beautifully performed! The background music was great! The performer could not have done a better job--very expressive! I hope they make more DVDs with different songs, themes, teaching, as I intend to buy every one of them!" S. Sorvaag,

Argusville, ND
"Thank you for making such a wonderful DVD!! You sign beautifully!!!! It's the first time my family has been able to enjoy Christmas carols during the holiday season!! We can't wait for you to come out with more DVD's!! Thank you again for producing such a wonderful DVD!!" The Rogels, Olathe, Kansas

"This is absolutely wonderful and so long overdue for the Hearing Impaired. The DVD presentation of Silent Night was so beautiful yet simple that all of our challenged adults were able to follow it. Some who have resisted the learning of ASL were so captivated by the performance they wanted to "SING" along. Two of our group began signing for the first time in many months giving us all reason to celebrate the season. Thank you for opening minds and hearts." Social Development Group for Challenged and Hearing Impaired Adults, London, Ontario

"Thanks for all of the help that your DVD provided. The ladies who will be doing 'O' Come All Ye Faithful' at the Christmas play have learned it already! We have enjoyed your work over and over. Thanks again and God Bless." Rev. John Sparr, Liberty, Kentucky

"We are deeply moved by the grace and beauty of how the songs are presented. Silent Night in Sign Language takes on a whole new meaning to the hymn. In all the years I have loved this I have never EXPERIENCED it as I did in ASL. It touches both heart and soul in the beautiful, graceful and gentle way in which it is so lovingly performed on the DVD. Your work has enriched all of our lives. Congratulations and God Bless in your work." H & R McGlinchey, London, Ontario, Canada

"I am 13 years old and have perfect hearing. I have been learning sign language for the past two years and was so excited to get your Silent Night DVD for Christmas. I have used it non stop and now know most of the songs by heart. I have shared it with my friends and a volunteer group of hearing impaired that I work with and we have all enjoyed it. Everyone says "How beautiful" it is. Most of them never knew a sign language song before your DVD and we had to play it over and over and over.... again. It really made for a very special Christmas Celebration in our group. I think everyone should get this DVD if they want to really get in touch with the true meaning of Christmas. It makes you stop and appreciate what you have and really "listen" to the message of Christmas in the songs. I think it is brilliant. I am now looking forward to learning the songs from the new Patriotic DVD that just arrived." C McGlinchey, London, Ontario, Canada

"A 'Silent Night' Christmas Carols in ASL is a beautiful DVD with wonderfully expressive signs and lovely music. It covers such a wide variety of Holiday Music. It's one of highest quality ASL DVDs that we've seen. This is a perfect gift for anyone who loves the beauty of ASL. Thank you for making such a great product!" Kelly Simpkins, Senior Product Coordinator for Harris Communications

"Enjoyment for both Deaf and hearing, this DVD will entertain as well as promote understanding and appreciation of American Sign Language. Familiar Christmas carols performed in ASL provide a wonderful way to experience the eloquence and beauty of Sign Language. Sure to become an ASL Christmas Classic, A 'Silent Night' contains best-loved carols." Adco Hearing Products, Inc.

The Patriotic Spirit... Patriotic Songs in ASL

"The Patriotic Spirit… DVD is truly another masterpiece! Hayden is beautiful, graceful and so very talented. It is a spiritual experience to watch her 'sing' the beautiful songs with her soul." M. Olbinski, Forest Hills, N.Y.

"The 'Patriotic Spirit' was so lovely it brought tears to my eyes. I can't wait for all my family to see "A Silent Night" at our family gathering on Christmas Eve. My deaf niece and her husband get a little left out sometimes. I will be ordering 'A Praising Spirit, Vol. I' soon and 'Vol. II' later. Thank you. C. Elkins, Farmington, MO

"We have loved Silent Night and Patriotic Spirit. My 12 year old daughter was very interested in learning ASL and these DVDs have improved her fluency and grace in speaking in this beautiful language. Thank you for your wonderful work. We look forward to getting the next set of DVDs and continuing to learn. Your DVDs truly show the beauty of the Signed expression." C, Eggers, Nemo, South Dakota

"The Patriotic Spirit" is a beautifully signed video. Hayden Riley signs with so much elegance and emotion that it is truly a work of art. The option to watch the songs in slow motion is an excellent learning tool. With so many great patriotic songs and such wonderful music, this video is highly entertaining for both deaf and hearing individuals." Kelly Simpkins Purchasing Harris Communications

"I first received Silent Night DVD and was amazed at how truly beautiful ASL really is. Of course it does help having Hayden performing them. I was taking beginning ASL class when I received Silent Night DVD and took it to show the instructor the packaging. She went on your website and bought one for herself. I have just received The Patriotic Spirit and am once again amazed ;-) Hayden is magnificent! Thank You both for such wonderful DVDs. Please keep the great DVDs coming and I will continue to purchase them. They really help me with my studying too :-)" P. Homer, Jamul, California

"I received the Patriotic Spirit last night. I LOVE it. It is so well done. Thank you so much for doing it. Please don't stop. I hope you are making more DVDs... with contemporary songs maybe. Whatever you do.... I will buy it! I will be ordering the other three DVDs soon! I am learning sign language and it is such a good learning tool for me. We have to sign songs in our class and when I see the other students I am going to tell them about the DVDs. Signing songs is a great way to learn!!! Thank you again!" L. Gammons, Rochester, NY

"I purchased the Christmas and the Patriotic DVD and they are quite wonderful. They are easy to follow and move me almost to tears. Thank you." E. Wright Redford, MI

A Praising Spirit, Vol. I & Vol. II... Prayer & Hymns in ASL

"In July 2007 I bought two of the DVD's for my 12 years old niece. She loved them and said it was the best sign language music performance she has seen. Learning Bible verses and hymns from A Praising Spirit, Vol. 1 was easy and fun." E. Schlueter, Arkansas

"I LOVE A Praising Spirit... Vol. 1 & Vol. 2, they are so beautiful and inspirational. Thank you again - I love all your DVDs. Hayden is so elegant, graceful, and expressive. Praise God and bless you for your touching work." M. Magliarditi, Valley Glen, CA

"I very much enjoy all your DVDs. They are well made and easy to use, good teamwork between production and demonstration. I look forward to your future productions." J. Knudtson, Jacksonville, FL

"I ordered both the Praising ASL DVD Vol. 1 and 2 I rec'd them a couple of days ago, really didn't expect them so fast. I am a ASL student, and I need all the practice I can get in signing. I have a few Deaf people I know, we meet once a week signing at church, I now know ASL as with any language you have to continue practice. I listen to my new praising DVDs all the time, during the Christmas time I ordered A Silent Night DVD. I enjoy them all. A. Holmes, Bellevue, Nebraska

"I truly do enjoy watching the Praising Spirit, Vol 1 and 2. I am looking forward to more DVD's to come out so I can help teach some of the young teens in my church to sign and love doing it. Thanks so much for all your hard work and for blessing us all who really need some help." Yvonne, Demotte, Indiana

YAHOO! News

A 'Silent Night'... Christmas Carols in ASL

Christmas Carols in ASL on DVD - A Unique Gift for Deaf & Hearing

"Break tradition - be creative - instead of wine, flowers, or candy, bring this lovely DVD as a gift to your next Christmas party. Your host will appreciate the holiday entertainment that it will add to the gathering. Share with your friends and family the eloquence of sign and song beautifully performed on this elegant DVD. A 'Silent Night"… the DVD is poetry in motion."
American Sign Language Videos on DVD
Tim & Hayden Riley, Producers of ASL Songs on DVD